Beyond the Ghetto Gates is a historical novel set during the turbulent days of Napoleon Bonaparte's Italian campaign (1796-97). When French troops occupy the Italian port city of Ancona, freeing the city's Jews from their repressive ghetto, two very different cultures collide.
"A gripping peek into a bygone Italy and an astute look at the era's prejudice." — Kirkus Review

"Cameron has made excellent use of the genre of historical fiction – effortlessly teaching about a little-known chapter of 18th-century history, while confronting the issues of her 21st-century readers. " – Jerusalem Post
---
Tickets now available for the Ocean County College Repertory Performance of In the Shadow of the Globe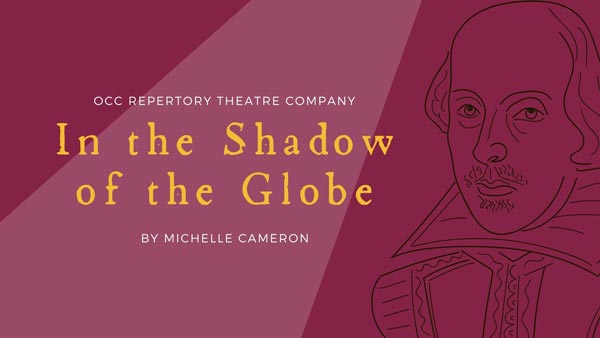 New Jersey Stage describes Michelle Cameron's In the Shadow of the Globe as  a series of intertwined stories of love and ambition in a kind of poetry-meets-Shakespeare in Love."
This virtual performance of the OCC Repertory Theatre Company will take place on May 20 at 7pm EST. $5 tickets available here.
The OCC student cast consists of Elaine Amico, Joseph Bryant, Archana Gonzalez, Aaron Lopez, Terry Nickerson, Anthony Scarpone and Brandon Turmelle.
News About Beyond the Ghetto Gates
From May 14-24, National Get Caught Reading Month, Beyond the Ghetto Gates will join 53 other She Writes Press and Spark Press novelists in the anniversary $0.99 e-book sale! Books will be available at this dramatically reduced e-book price on all e-readers.
If you haven't already bought your copy, plan on doing so then! And check out all the other amazing books that will be on sale at the same time.
Beyond the Ghetto Gates takes Silver in the Independent Publisher Book Awards' Historical Fiction Category, is a finalist for the Chanticleer Goethe Awards and is a finalist in the 2020 Foreword Indies!
---
A Few Kind Words About My Previous Books
A book as rich as the cover illustration, The Fruit of Her Hands is based on the life of Cameron's 13th century ancestor, Meir Ben Baruch, a renowned Jewish scholar of medieval Europe. The Fruit of Her Hands is a dramatic fictional tale centered on the character of Meir Ben Baruch's wife, Shira. The book paints a picture of the dawning of the renaissance; a society faced with prejudices and one woman's fight for justice and equality. – Jewish Scene Magazine
The Fruit of Her Hands is equally rich as history and fiction.  Most readers probably know that anti-Semitism was prevalent in Medieval Europe, but in Cameron's skilled hands, the reader experiences with pounding heart how horrifying, brutal, and pervasive it was. . . . a book so rich with wonderful characters, vivid settings, and an absolutely lush and wonderful depiction of the strengths of the medieval Jewish home and community. This is a first-rate choice for Jewish book clubs. – The San Diego Jewish World
In The Shadow of the Globe is an astonishing surprise. Michelle Cameron has conjured a world and spun a poetic tale that not only honors and exalts Shakespeare and his universe but brings it to vivid, visceral, and heartbreaking life. It is a unique and breathtaking work of art inspired by the man and the theatre that defined humanity in its totality. — Bonnie J. Monte, Artistic Director, The Shakespeare Theatre of New Jersey
I love your epic poem. It's fun, insightful, imaginative. One might nitpick your chronology, but who cares? I am half-way through it, enjoying it immensely, but my heart leaped at Cuthbert's advice to Peter Street on how to build a playhouse. How right, how accurate: a machine in which to act, not a celebration of the art of scenic design, not built in accordance with the physics of the motion picture projector, no ceremonial hall for wine-and-cheese shmoozing, no architectural monument to someone's wealth. A machine in which to act, where the alchemy of the Playwright's words in the actors' bodies can be realized by the sense of the audience to create the delicate magic of theatre. God bless you, dear lady, you and Cuthbert nailed it. – Paul Barry, Founder of the NJ Shakespeare Festival and director of all 38 of Shakespeare's plays